RANCHLAND OUTFITTERS – FIRST CLASS WATERFOWL & BIG GAME HUNTING IN ALBERTA & SASKATCHEWAN, CANADA
BIG GAME HUNTING IN ALBERTA CANADA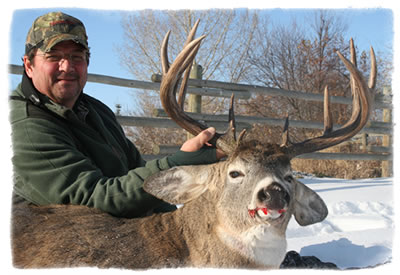 Ranchland Outfitters is currently offering Archery and Rifle Whitetail Hunts, Archery Moose Hunts,  and Spring Bear Hunts.
Alberta's Whitetail Deer are world re-known; they are smart, alert, and a challenge to hunt. This is bow hunting at its finest. Ranchland Outfitters tracks the deer all year long; we know their patterns and travel routes, we will provide you with access to tree stands or ground blinds depending on the territory. You too can enjoy watching all the deer walk right past you and you can choose when you make your shot. Bring along your camera for some really amazing photography.
Alberta has produced and incredible amount of Trophy Whitetail in the past so your chance of seeing a trophy animal is very good.   On an average 6 day bow hunt, each hunter should have an opportunity at a 145"+ buck.  In Alberta the bow hunter has the choice of the cream of the crop, bucks are still in a regular routine feeding pattern which is easy to predict. The large bucks are not deep in their hiding places and the fall air is mild and comfortably warm.  Archery season is Sept 1 – Oct 31
The rifle season comes in Nov 1 and runs the whole month.  This is an awesome time to hunt whitetails as the weather is getting cold and the big bucks are moving everywhere.  The rifle season runs thru the rut and where there are does there is a buck close by!!  There usually is snow on the ground and tracking deer is really easy.  We will be hunting feeding areas which primarily consists of alfalfa fields or on cutlines where there is alot of deer movement between bedding and feeding areas.  We have enclosed tower blinds and ground blinds for your comfort.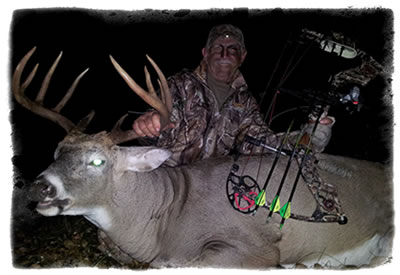 Alberta's Moose are exceptional.  We have an increasing population of local moose giving the hunter an increased chance of taking a trophy.  We will use various techniques to hunt moose but usually will be a spot and stalk hunt.   These moose have access to all the agriculture lands around so they are getting well fed to help with antler growth.  Very common to see moose grazing in the alfalfa fields with the deer in the evenings.  Our Archery Moose hunts run from Sept 1 – Oct 31.
Alberta's Spring Bear Hunts are awesome.  This is a new area which has the potential to produce some awesome bears.   We have a high number of color phased bears in our area and we can take 2 bears per hunter.
Ranchland Outfitters has guaranteed BIG GAME permits so no draws, applications, or preference points needed.  Just give us a call today to secure your spot!!