RANCHLAND OUTFITTERS – FIRST CLASS WATERFOWL & BIG GAME HUNTING IN ALBERTA & SASKATCHEWAN, CANADA
ALBERTA, CANADA WATERFOWL HUNTING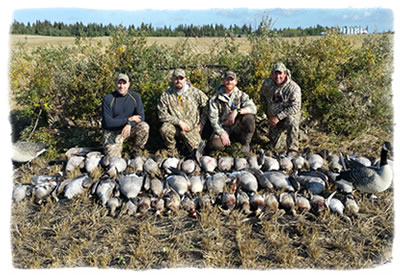 Waterfowl hunting at its VERY best.  We have the right equipment, the right guides, and are blessed to operate in the hottest spot in North America!!  This is a world class waterfowl trip.  It doesn't get any better than this!!
Our Alberta, Canada Duck and Goose Hunts will bring you back year after year.
Whether you are an avid hunter or a first time water fowler, Ranchland Outfitters is one of the best outfitters to guide you for waterfowl. We are located right in the heart of where three migration routes meet; our territory covers thousands of acres of land in North Eastern Alberta right to the Saskatchewan border. You will see a wide array of ducks and geese; Canada Geese – Greaters and Lessers, Speckle Bellies, Snows, Ross, Pintails, and Mallards to name a few.
Your accommodation is our lodge complete with kitchen, dining room, and living room to relax after a day of hunting. We also have a fitness area and pool table. Your meals are prepared at our own ranch style restaurant where you will enjoy tasting Alberta Ranched Elk and our Famous Alberta Beef.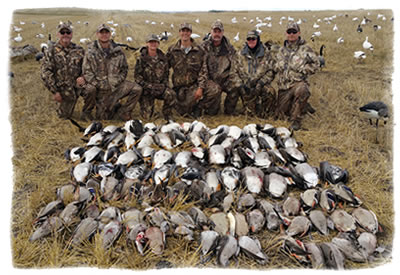 The earlier in the season, the earlier we begin our days; we start out early in the morning leaving enough time to set up decoys and be ready in our comfortable layout blinds before the first beam of sunlight breaks the horizon. Our layout blinds make it easy to maneuver and be ready for the next flight of birds.
Usually our first visitors are the early rising ducks or specks; you can hear the whistle of their wings as they fly all in unison right over our blinds; ducks come in fast and hard, this is action packed water fowling which you will love. Not long after the ducks start flying, you can hear the cackle of the geese as they start flying over the horizon; our guide uses various calls to attract the birds and give you prime opportunity to see nature up close and personal.
Our waterfowl season opens on September 1 and offers incredible hunting to November 6. We guide small parties of 6 to 8 people. Our prime spots are filling up quickly and it is advisable to book as soon as possible. Contact us to find out more information; if you've ever wanted to hunt Alberta, Ranchland Outfitters is your first class choice.
3 DAY  WATERFOWL PACKAGE     Call or email for price
All inclusive hunts include meals, lodging, license, shells, and bird processing. Waterfowl hunts are Monday through Wednesday or Thursday through Saturday.  3 morning hunts and 2 afternoon hunts.  Fly into Edmonton and rent a car to our location.
6 DAY WATERFOWL PACKAGE    Call or email for price